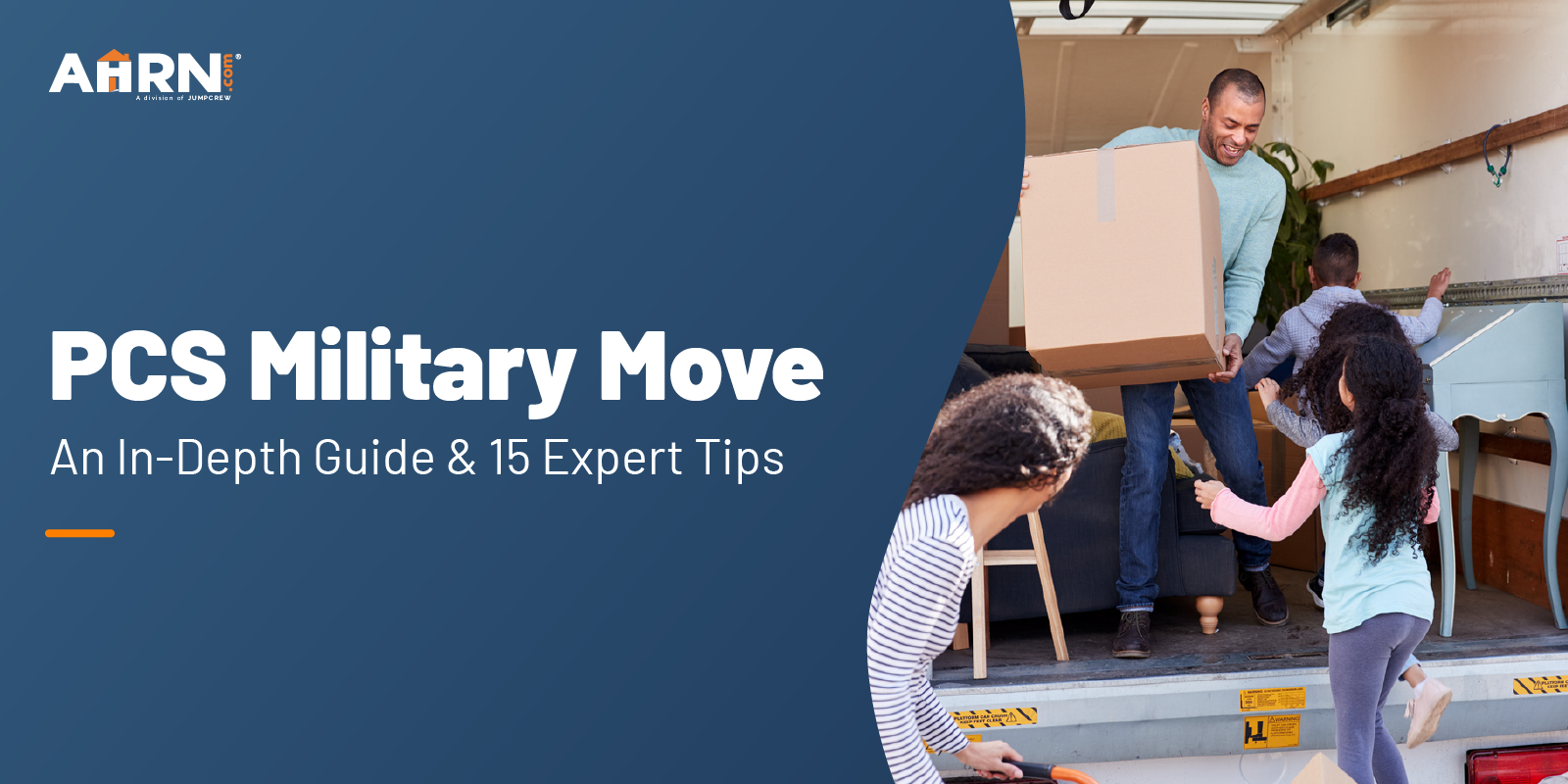 Introduction
PCS military members are all about that relocation life. Everyone and everything in your household will be on the move soon after you get PCS orders. Sound stress-inducing? It is. But you can make it a lot better if you lean into your permanent change of station. Hype yourself up to get really into moving. And really, really get into planning and PCS paperwork. You are probably heading somewhere new, right? Get excited and take command of your relocation!
We're ready to help answer questions like: What does PCS mean in the military? We've got tips from the experts too! So whether this is your first time PCSing, the fifth time, traveling alone, or with family, we're here to guide you through this process.
Alright, future-PCS bosses, let's do this!
Know what you're looking for? Click the link to jump right to the section.
1. What Are PCS Orders?
2. When Do You Receive PCS Orders?
3. PCS Process
⚬What To Do When You First Receiving Your Orders
⚬ PCS Move Checklist – Pre Move
⚬ PCS Budget Planning
⚬ PCS Calculators
4. Scheduling a PCS Move
⚬ During the Move
⚬ Post PCS Move
5. PCS Move Tips
⚬ First PCS Move
⚬ PCSing with Pets
⚬ PCSing with Family
⚬ PCSing by Yourself
What Are PCS Orders?
If this is your first PCS move, you may be asking yourself "what does pcs mean in the military?"
Military moves all start with orders that include your rank, the length of the job or training, and where you are assigned to help the DOD experts determine your move's details. PCS orders mean you are assigned to a location for at least 20 weeks for training or a job. And a complete household move is part of a PCS.

When Do You Receive PCS Orders?
Every two to four years is the usual rotation for receiving PCS orders. May 15 to September 30 is peak PCS season.
If you don't have orders yet, purge or donate any household items that you no longer use while you are waiting. Less to move is always better! You can also take inventory of your items, so you know what you'll have to move when orders arrive. An accurate and detailed list will also help you file a loss or damage claim.
PCS Process
Once you're armed with the where and when information of your PCS orders, you're ready to start planning your PCS move!
CONUS
Continental United States moves are the most common PCS moves.
HHG
A transportation service provider provides a household goods move for the government. During an HHG move, your belongings are packed and transported to your new location.
PPM
A personally procured move means you will be packing and moving your belongings to your new home. Or you will be hiring a commercial mover like POD or U-Haul for your PPM. The government will pay you 95% of the cost to hire a mover, and in some cases, you will be able to save some of that money by getting it done yourself for less.
Don't worry, you start to understand these acronyms as you move through the process.
More like this: Military Move: An In-Depth Guide & Expert Tips
What To Do When You First Receive Your Orders
Your orders give you the go-ahead to begin building your move's schedule.
PCS Move Checklist – Pre Move
It's too easy to lose track of stuff when you're on the move. Do yourself a favor and create a custom move checklist designed by the DOD's experts at Plan My Move. The printable PCS checklists will help you to stay on top of your family's move.
More Like This: Protect Your PCS With A Home Inventory Tracker & Sheet and The PCS Prohibited List.
Click here to download your free PDF copy of our budget estimator sheets.
What can a landlord charge for when you move out? Explore expert tips on how you can keep your security deposit & avoid costly overages.
PCS Budget Planning
The DOD provides allowances for housing and moving to ease the expense of moving. Go to the Defense Travel Management Office for allowance tables, per diem rates and tools to help you plan your PCS budget. And the relocation assistance program will provide housing and moving allowance info.
For a CONUS PCS, the government will reimburse you for mileage and toll expenses to drive your car to your new location. Be sure to save receipts!
More Like This: Your PCS Budget and PCS Entitlements You Need To Know
PCS Calculator
PCS weight allowance depends on your rank, dependency status and move type.
Enter your info to determine your moving allowance. Use Move.mil's online Weight Estimator to calculate the total estimate for your household relocation. Compare the estimate to your allowance and plan accordingly. Beware that overweight fees can range from hundreds to thousands of dollars.
Split your moving allowance into both PPM and HHG moves for the best results. The PPM will allow you to keep control of your irreplaceable and daily use items. The HHG will be especially helpful for packing up the bulk of your move as well as moving heavy stuff.
More like this: What is the Current PCS Weight Allowance? In-Depth Guide & Expert Tips.
Pro Tip: Your local personal property office is where the PCS gurus are. Ask the experts for help determining how to move your household into various shipments.

Scheduling a PCS Move
To schedule your move in DPS, you need:
Estimated shipping weights
Pick-up and delivery dates and locations
Specialty item list (boat, guns, R.V., large electronics)
Professional Books, Paper and Equipment list and weight
Your preferred moving company
When you take your DPS forms to your transportation office, you will be assigned a moving company.
During the Move
When possible, keep kids and pets out of the house or isolated in a room during packing day. You don't want to add calming a spooked animal or distressed child to everything else you have going on.
Move your PPM items into your locked car in the garage or driveway at the start of packing day. You don't want to risk getting your valuables — like laptops, medicines, car titles, family heirlooms, jewelry, and move paperwork — tossed in a box. And now you will be able to see how much space you have left to keep clothing, favorite toys for kids, pet kennels, bedsheets and bath towels on hand in the car throughout your trip.
Pay close attention to the movers' inventory documentation. Be sure items include enough descriptive info and not just vague terms to show what items you shipped. Get the driver's phone number so you can stay in touch during the trip.
If something goes wrong, call your transportation office. Don't attempt to argue directly with the movers.
Post PCS Move
Santa and his naughty list will have nothing on you and your change of address list! Update your address sooner than later to avoid complications. Here are a few suggestions to get started.
USPS
IRS
Social Security Admin
Employer
Bank/Credit Union
Insurance Companies
DMV & Voter Registration
Subscription and Delivery Services
Utility Companies
Internet/Mobile Companies
Credit Card Co. and Other Lenders
PCS Move Tips
As you are currently experiencing or have experienced in the past — moving is super stressful. So we've put together some tips that others have found helpful in the past to help you navigate this stressful time.
Listen to Music to Help You Get Motivated
Make, or find, a moving playlist or two. Music has a calming effect when you feel overwhelmed. Music can have a let's-do-this impact when you need the motivation to get moving. Get in a groove and get stuff done — no matter where you are in your PCS process.
First PCS Move
Know Who to Call for Help

Army: 1 (800) 762-7186
Marine Corps and Navy: 1 (855) 444-6683
Air Force: 1 (210) 652-3357
Coast Guard: 1 (833) 551-0887
USTRANSCOM: 1 (833) 645-6683

Get an appraisal for expensive items in case of loss or damage.
Use a video inventory to note the condition of your furniture, T.V.s, etc., when shipped.
Are you moving with firearms in your car? Know the firearms laws in the states you travel through during your PCS.
To save money, stay in lodging with rates negotiated for per diem. FedRooms are for federal employees on official government travel. All U.S. hotels are FEMA and ADA-certified.

PCSing with Pets
Make sure your pet is healthy with update-to-date immunizations to make its move easier.
Pets can behave unpredictably when they are in unfamiliar surroundings. Be prepared to recover a panicked pet! Microchips and current I.D. tags make it easier for people to help you reconnect with lost pets.
Pack a travel bag for your pet's daily needs too. You should include food, water, bowls, leash, toys, bedding and medication.
If you have pets & you're scheduled for a PCS or OCONUS move, click here for tons of tips, advice, & information you need to know about moving with pets.
PCSing with Family
Hold a family celebration to break the PCS news. Make it exciting with information about an adventure just for your family. Explain there will be new places to explore and new friends to meet.
Bring the fun to packing! If you have younger children, download Sesame Street for Military Families' Moving Labels and let your child decorate their boxes. Use special tape or stickers for each family member to make it easy to know where the boxes go.
If your family starts to feel stressed when unpacking, take a break to do something fun as a family. Take a walk. Ride bikes. Outdoor activities are an excellent way to reset.
PCSing by Yourself
Listen to an audiobook in the car to pass the time as the miles go by if you have a long drive ahead. Amazon Prime members may be able to access groups of Audible books at no charge. We suggest looking for these titles 19 of the Best Military Non-Fiction Books Everyone Should Read.
Bring your pillow. You may not be able to sleep in your bed for a little while during your PCS. But your pillow will feel like a little bit of home at the end of a long day of traveling.
Don't wait to find out your ID or driver's license expired while you are on the move. Tickets for an expired driver's license can be costly and unexpected. And you'll want to be sure you will clear the gate guard upon arrival at your new base.

Conclusion
We now conclude our crash course on "what is pcs military?" Make the best of your PCS by staying optimistic and using the info provided to set up a successful permanent change of station for you and your family. Find tons of information on your new military community at MyBaseGuide. MBG has the up-to-date info you need to settle into your home, from the best restaurants to top schools and outstanding recreation options.
Military OneSource provides free, confidential non-medical counseling to discuss how to manage relocation stress. Schedule an appointment 24/7 via secure online live chat.
Last Updated: March 18th 2021
The appearance of U.S. Department of Defense (DoD) visual information does not imply or constitute DoD endorsement.