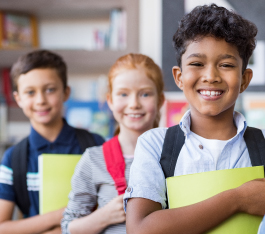 For the military family, education is just one more of many factors that come into play during a PCS. Here are 6 tips to help you choose the right school for your child.
The summer of 2013  saw my family's 6th PCS in 10 years of military service. In one key way it was an entirely new experience. For the first time, making a decision about our housing wasn't just about bedrooms, kitchen appliances and sidewalks. Our oldest had turned four and would be starting school. I found myself buried in statistics, reports from friends and state assessments. How do you choose? And what role does it play in your housing choices?
1. More than a label
There is a tremendous range when it comes to what schools offer – whether they are public, private, or some combination (like a public charter school that is supplemented with paid tuition). The public/private label is not a guarantee of the value of the education your child will receive. Even from one district to the next, school choices should be considered individually and with the needs of your child in mind.
2. Gather Information
Military families are often making school and housing choices from a distance without a visit in person. Fortunately, a little internet sleuthing and social media outreach can yield a tremendous amount of information. District and school websites should contain testing results and ongoing improvement projects. Some county and city websites could also be a good source of information – including the status of any education related voting efforts. A district that is well supported by the local community (passing funding proposals and initiatives) will have more resources than one fighting tooth and nail for every penny.
Verify all school and district supplied information through an external source like GreatSchools. Looking for more resources about the educational challenges faced by military children? Explore the Military Child Education Initiative. Reach out via social media and ask friends who have lived in the area what they feel are the strengths of the different schools. My secret weapon? I always ask friends if they know a teacher. Teachers can tell you about the culture inside a school.
3. Be thorough, but not overboard
It can be easy to obsess about numbers and statistics. It's important to remember that this is just ONE factor in your housing decision. There is a different level of consideration if your child is entering high school, and weighing college decisions, as opposed a kindergartner installing the basics.
4. Be an advocate
No one knows your child like you do. While at times it feels like we have little choice in where our child goes to school (that's why there is a school down the street, right?), you should be an advocate for your child if there is a better choice. Consider intra-district transfers, out of district choices and financial aid for private schools.
5. Red Flags
There are some things that should immediately cue you to look a little deeper. Any school should be willing to answer your questions. Schools have a vested interest in bringing students to their school. They won't be more motivated to work with you once you are there.
6. Questions to Answer
Not sure where to start when it comes to researching educational options? There are no correct answers. Each family has to decide what are their child's most important needs. Here is a checklist to start with:
For all grades:
What is the teacher turnover at the school?
How modern is the school's equipment? Will kids have access to technology?
How welcome is parent involvement?
In what condition are the schools? School buildings in a state of disrepair can dramatically affect the learning environment.
Elementary School Specific:
Is the school willing to consider student-teacher suitability in class placement?
What does the lunch program look like? Are there healthy options?
Are students offered electives like PE and music?
Do students take field trips?
Middle School Specific:
What is the coverage of general core subjects vs. state specific requirements?
What advanced placement options are offered?
What high school does the school feed to and how strong is the relationship?
High School Specific:
What is the high school graduation rate?
Does the school offer tech program options for students that are not planning on seeking a post graduate degree?
What is the college acceptance and college graduation rate?
Does the school award scholarships to high achieving graduating seniors?
What advanced placement options are offered?