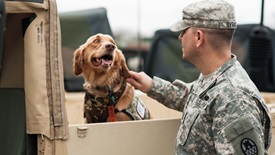 Moving in general can be stressful but adding a furry friend to the process can make it more complex.  Here are some tips for making your next move with pets go smoothly.
Plan Ahead
The importance of planning ahead if you are moving with your pet cannot be stressed enough. The first step is to make sure you contact your new installation to get their specific rules about bringing your pet. Part of your plan should include researching several pet friendly hotels if there is a chance your home won't be ready when you make your move.  Preparing for a overseas move add's another layer of complexity.  Be sure you understand the requirements of your gaining installation, which can save you and your pet from additional stress during the move.
Visit the Vet
Moving with a pet requires documentation and clearance from your veterinarian. Make sure your pet is up to date with all the necessary vaccinations. Different locations have different vaccination requirements so be sure to find out what you need before your vet visit. Overseas destinations tend to be stricter on your pet's health clearance. All of your pet's health documentation should be carried with you at all times.
Prevent the Chances of Getting Lost
Losing your pet definitely isn't part of your move plan but it's good to be prepared for unforeseen circumstances. Get an identification tag for your pet's collar. The tag should display the name of your pet, your cellphone number and the phone number of an emergency contact. Take a picture of your pet so that you can show people what it looks like should it get lost during the move. You may want to consider having your vet microchip your pet.
Prep Your Pet for Travel
Not only is moving with a pet stressful for you but your pet may become anxious with the new environment and enclosed space during the trip. If flying overseas, your pet's crate should be comfortable to ensure that your pet feels safe. Airlines requires all pets to be inside a crate during flight. Prior to traveling in the car, let your pets be accustomed to being in the car by providing treats and having short trips in the car. Your pet's necessities should be packed in one bag.
Getting all the paperwork and clearances sooner rather than later will make for a smooth moving experience. If you are proactive and know all of the requirements to prepare your pet ahead of time, moving with your pet shouldn't add to the stress of moving!