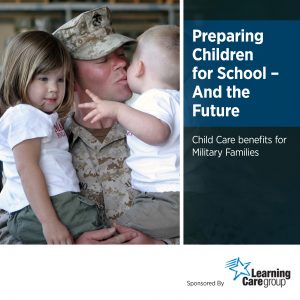 During their early years, children benefit from stability and routines. Consistent child care and early education experiences will prepare children for their school years—and the future.
Every parent wants to be sure their child is ready for the challenges of elementary school. They want to be sure their children are equipped with the necessary skills to get a great start in kindergarten and to be prepared to succeed in their academic future.
It's important to choose early education programs that are right for your child. As two essential stepping stones to kindergarten, Preschool and Pre-K represent significant opportunities for children to develop academically, physically, and emotionally for what lies ahead.
Educational Experiences
That's where Learning Care Group comes in. As one of the largest child care providers in North America and a leader in early education, they offer programs designed for children ages 6 weeks to 12 years, across the country, and around the world. Plus, they partner with the military to honor Child Care Aware and GSA, as well as to offer a 10% discount to active military families.
Their seven school brands offers a unique educational approach, though all adhere to the highest standards for nurturing care and personalized learning experiences. Dedicated, experienced teachers guide children through each program and classroom, as they prepare for the next step.
The schools of the Learning Care Group are committed to making a difference and having a positive impact on every child, family, and community they serve every day. They support child development for infants to school-age students, through a comprehensive, research-based curriculum—designed by their own in-house Education team—in a safe, nurturing, fun school environment. As experts in child care and early education, they empower children to be ready for school, instill a lifelong love of learning, and provide a solid foundation for a successful future.
Healthy Choices
Early education provides not only for a child's cognitive and academic development, but also for social-emotional and physical development, as well. The Grow Fit® initiative, in collaboration with the Partnership for a Healthier America, helps children develop healthy habits for a healthy future and ensures the complete well-being of a growing child through healthy living, nutritious eating, and physical fitness.
This includes daily menus overseen by a registered dietitian nutritionist. Meals and snacks offer healthy choices and options, including fresh fruits and vegetables, no fried foods, and plenty of low- or nonfat milk.
Safety and Security
Every school building provides a safe, secure environment for children. Strict ID and entry requirements ensure only authorized individuals gain access to the building. Interior cameras allow staff to properly monitor the building. Regular drills and safety training are provided to staff, while all school follow state standards for CPR and first aid training.
Plus, with their mobile app for parents, you can stay connected all day. Real-time updates and photos keep you current with your child's school experience and learning developments.
This commitment to children is shared throughout Learning Care Group and its entire family of brands: Childtime®, Tutor Time®, La Petite Academy®, The Children's Courtyard®, Everbrook Academy®, Montessori Unlimited®, and Creative Kids Learnings Center®. With these seven brands, and our more than 900 locations, we are here to serve our service members and their families, all across the country, as well as near several military bases.
At all these schools, they value heroes. And they want the best for your little heroes-in-training. That's why all their schools accept Child Care Aware and GSA, and offer a 10% tuition discount to active military families. Learn more at learningcaregroup.com today!
Contact Learning Care Group at 855-844-2357.