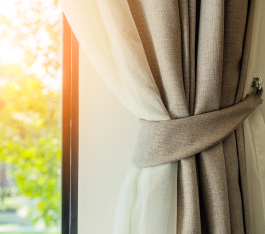 Don't you love it when two problems can be fixed with one solution? Today with interior designer Merri Cvetan, we'll organize jewelry and accessories while also creating a unique window treatment.
When you rent your home, you often can't make major changes – or you simply may want to be able to take everything with you when you move. This project is perfect for impermanent living situations.
If you don't already have drapery rods in place, Go for tension rods. They are a great option. They're inexpensive and don't require making holes in window trim or walls.
Shawl Valance
An easy and dramatic valance can be created using a simple, pretty shawl. This lace shawl with sequins softly diffuses and reflects light. Arrange the shawl on the rod, creating a gentle drape in the center.
Clip the gathered shawl to the rod near the end, Hold it in place with medium-size binder clips. Turn the clip toward the window so it doesn't show. You can easily remove the shawl to wear and hang it back up again until next time.
Jewelry Valance
Having easy access to your jewelry is important when you're in a hurry every morning. Putting necklaces on display not only creates a unique valance, but frees up dresser, drawer and closet space.
Drape or clip necklaces on the rod. Arrange them by color, style or size.
Napkin Valance
A unique and colorful solution is to use napkins. A friend from Guatemala brought us these hand-woven napkins in shades of blue. I can't wait to use them at a dinner party, but in the meantime, they add color, texture and pattern to an otherwise plain window. I just folded them in half diagonally and laid them on the tension rod. Get a new look every month or season by replacing them with other colors and styles.
Scarves Valance
Scarves are another way to dress up a window. They are such an important fashion accessory-chances are you have dozens. They make a color statement and are accessible when you're getting dressed. If your window happens to have a drapery rod already installed, take advantage of it.
You want to make sure you can easily pull a scarf off the rod when needed and put it back on at the end of the day, so follow these instructions for this easy-to-remove knot:
Step 1: Fold scarf in half. Drape the middle over the rod. The "middle" will be on the back of the rod and the long ends will be on the front.
Step 2: Tuck the long ends through the "middle" drape. Now the long ends will be behind the middle.
Step 3: Tighten the knot by gently pulling the long ends. You will end up with a knot that looks similar to the traditional Windsor knot.
We Want To Know:

What other creative ways have you dressed up your valances with items already around your home?
Meet Your Contributor:
Interior designer Merri Cvetan writes about her DIY projects, including window treatments, for The Home Depot. Merri started her interior design work after she bought the ultimate "fixer-upper," an 1890s farm house. To view Home Depot's selection of window treatments online, you can click here.