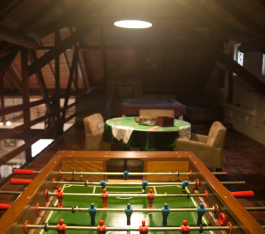 Having a place where you can escape daily life and be yourself is vitally important to relax and recharge. Your personal turf, a.k.a the Man Cave, can be a room in the house, basement or garage or even in a shed out back. AHRN.com has the need-to-know when it comes to a PCS compatible Man Cave.
Though home is your castle, you may not care much about fabrics or window treatments, decorative pillows or duvets. But when it comes to a flat screen, the latest sound system, the big chair, and high tech gizmos, you've got lots of ideas!
Your Manctuary should express who you are. It can be as lavish and elaborate as your space and budget allows. But service members have special considerations; your man cave plans should accommodate the fact that you PCS. First, let's cover the basics.
Man Cave Essentials:
Flat Screen (with or without surround sound)
A BIG chair
Stereo or music system
Fridge
Games
Bacon
 Optional 
Couch and coffee table, lamps Desk and computer, depending Cool art, signs, posters and photos Bar and stools All things sports or hobby oriented Cases for books or your gun collection Instruments Fireplace Rugs Pet bed and toys  
What's Your Theme
You can throw all your stuff together without a theme, but often it will naturally emerge. You could consciously build around a major interest, ie: music, pool hall, garage/cars/motorcycles, patriotic/military history, or sports… or a persona you relate to like James Bond, Davey Crocket, a Superhero, a Surfer, or Bruce Lee. Not sure? Make use of Pinterest to search for Man Cave ideas.
You want this room to be a step away from the old animal house. Pull it together with a color scheme. This could mean dark woods and leather, camo and animal prints, mod with bold colors and hip furniture, retro cool, sleek stainless steel high tech, Harley style, Rock and Roll black and red, Irish pub or beach/tiki mode.
Add personal touches like pics of you with friends, flags, medals, signed baseballs or sports jerseys, trophies, or whatever you collect. There are plenty of sites where you can fill it in with just the right thing, like ManCaveKingdom.com, TheManCave.com, and ManCaveGifts.com. Google around to find many more.
 How to Make the Essentials PCS-able
Because you PCS you may not be able to do the dream home theater, but it can still be Man-tastic. Not only because you will want to make as much portable as possible, but you will also be thinking about weights for PCSing. Here are a few things to keep in mind when pulling the essentials together:
1. Be Flexible
There are some things you will buy, especially the biggest pieces of furniture or the pricier items that will definitely go with you, with the idea that it needs to work not just where you are now, but with different floor plans. You may want to buy basics like a coffee table, end tables and lamps at yard sales, flea markets, discount houses, or IKEA. That way, if you need to leave or sell a few things when you get orders, they will be easy to let go and replace when you arrive. This is especially smart for OCONUS assignments.
2. Flat Screen TV
As tempting as it is to buy a Jumbotron, you may have to go for a high quality 50-55 incher. Regardless of the size, it's key to keep the box and the styrofoam for the next move as you'll never be able to duplicate what the factory invented to keep flat screens safe during shipping. Bonus: TV boxes are slim and easy to store. Get an extended service contract for any knocks that may happen in multiple moves and buy at a national chain store like Best Buy or Walmart so it would be valid wherever you may PCS in the States. Lastly, opt to use the stand. Tempting as it is, mounting on the wall leaves a big hole and an unhappy landlord may tap your security deposit to repair it.
3. The Big Chair
You need the right fit for you because it's all about the comfort – and only a recliner may do – but if you're happy with a wide arm chair and ottoman it can be easier to ship in a truck because it's in two pieces. Whichever you choose, look for lighter weight frames over heavier ones.
4. The Bar Area
How about a mini or half fridge instead of a full one? If you want a bar, rather than a built-in, check out the wide range of outdoor patio ones that are light and stand-alone but do the job. Look for collapsible bar chairs too.
5. Paint
Instead of painting all 4 walls, if the room is a neutral color, you can paint just once accent wall in any blue, green, red or yellow and bring some visual pizazz without overkill. And it's much easier to restore than a whole room when you need to move. Just remember the darker it is, it will most likely need a coat or two of primer before rolling it with the former color (see image below with one burnt orange wall).
6. Games
Foosball and pool tables are heavy – but you can find far lighter versions that can fold up and be put away when you're not using it, much like a ping pong table. Poker tabletops come lightweight (about ½ thick) and collapsable – placed on any foundation when it's game night, and stow behind the couch or  TV when not in use. Xboxes are small, as are any props like the Guitar Hero instrument, so a fair non-issue. Ditto for dart boards and chess sets.
7. Collectibles
Free standing book shelves can break down flat and come with you (or be sold at a tag sale), rather than being tempted to build them in or buy large, heavy cases to show off your trophies, medals and ribbons, action figure collections or sports memorabilia.
TIP: Invest in substantial power strips and some extra cords before you go if you are leaving the country. If a HD or USB cord gets corrupted in the move, you want to have back up.
You don't need much to have a Man Cave. A great TV and chair and your dog might make it your personal heaven. But if you want that and more, plan with an eye toward pulling up stakes for a man cave that is PCS-proof!
We Want To Know Questions:

What's the theme of your Man Cave?
Meet Your Contributor:
Rochelle Joseph is a Writer and Image Consultant who has had experience marketing, renting and buying/selling her properties for over 20 years.  She has written and edited for several publications, including the Boston Book Review,The Emerson Review, ZooBorns.com, WildLife Magazine, the Houston Zoo, The Wildlife Center of Texas, One Spirit Interfaith Seminary as well as AHRN.com. She currently writes at her great gifts blog at https://lookyhereu.blogspot.com and her animal blog at https://naturegirrrl.blogspot.com.