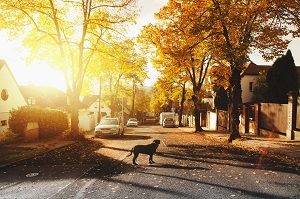 Another great summer is coming to an end and you are now relocating. Although moving can be a stressful time, fall is an awesome time to move. Not only is the weather perfect for this process, but it is also cheaper as summer is the busiest and most expensive PCS season. Here are 5 tips to make your fall move even better.
Keep all important documents in one place
Moving is the time when all the paperwork you own is required. Have a moving binder that stores any and all-important documents like birth certificates, social security cards, rental agreements etc. Color coordinate, use labels, and make copies to guarantee safe keeping. Make sure to secure this collection and keep it on your person during the move.
Declutter from Summer
You might have seasonal items like bathing suits, beach supplies, outdoor furniture etc. that are not worth storing. Instead of taking the time to pack these summer items, donate them or throw them away. If there are summer items that can be used/are in great condition, think about putting them into storage. This can streamline your move and help the move in process be easier.
Moving also means finding other seasonal stuff you had hidden in the depths of your garage. If you find colder-weather objects, like sweaters with holes and raggedy blankets, consider ditching them before the move as well.
Pack wisely
The moving process can also bring to light just how much stuff you own. And if your military spouse is deployed and you have to unpack alone, it can be an even harder situation to tackle. The best way to ensure that your unpacking can be as efficient as possible is to pack smart in the first place. Pictures are your best friend when it comes to taking inventory. Instead of making a list like: 8 pillows, 4 blankets, etc, a visual image is an easier approach. Images are also handy if you have to make a claim about any lost or stolen items with a moving company.
Dress appropriately
The one thing we often overlook when it comes to moving is what to wear the day of. The way you dress can either simplify or complicate your process. Dress in weather appropriate, comfortable clothing that will allow for easy movement. Make sure your shoes have good traction and always be prepared for bad weather, like rain. And although the fall weather is cooler than summer, make sure to dress in layers as all that movement can make you warm.
Falling Leaves
The beautiful fall foliage is wonderful to look at when it is at its peak.  Once those lovely leaves begin to fall they become potential hazards especially when you're trying to move furniture and boxes. Be sure to have a broom handy to sweep away leaves and other debris that may have fallen on the walkway. Pay special attention if it has rained recently, as leaves can become slippery and hazardous for people trying to carry heavy objects.
Not many people enjoy moving but when you move in the fall you have the potential to save money and beat the summer heat!