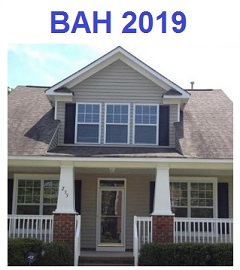 The 2019 BAH rates are now available!  On average,  the 2019 BAH rates increased +2.55% over 2018.  Since rates are specific to zip code, pay grade, and dependent status, the actual BAH rate will vary by these factors.  For 2019, the service member cost-sharing percentage increased to 5%, up from 4% in 2018.  This cost-sharing amounts to anywhere from $66 to $149 per month, depending upon location, pay grade, and dependent status.
Individual rate protection provisions continue to protect service members from year to year BAH rate fluctuations at their current duty station.  Service members maintaining uninterrupted BAH eligibility at their duty station will not see a decrease in their BAH rate, ensuring they can fulfill long-term housing lease agreements.
In 2019, the BAH program will pay an estimated $21 billion to approximately 1 million service members.
Here is a link to the Defense Travel Management BAH Calculator.