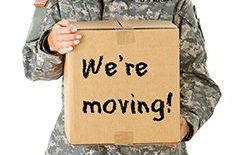 The transient nature of military life, with service members and families moving every three years or so, has pros and cons. That goes for landlords who rent to the military community as well. There will be regular, large influxes of new potential tenants to your area. But you'll also face fast, often sudden turnovers when tenants receive new orders. Here are some things to keep in mind for when a military tenant tells you they're getting ready to PCS.
Property Managers and Military Rental Turnover
The turnover portion of managing a rental property is often the most challenging. It requires balancing the needs of your current tenant, marketing the listing, and getting the next tenant moved in. Managing the time and expense of turnover while maintaining a positive relationship with your tenants is no easy task. Here are some steps you can take:
Determine if the tenant's situation falls under Servicemembers Civil Relief Act (SCRA) protection.
Establish your current tenant's timeline so you can plan when to post your listing on AHRN.com.
Share our PCS Toolkit with your tenant to smooth their transition out of your property. An organized tenant makes your life easier.
Provide a property clearing checklist to guide your tenant clearing the house and the handling of the deposit.
Military Lease Termination Laws
Federal Law, 50 U.S.C. App. Section 535, known as the above-mentioned SCRA, permits men and women in the military and their families to terminate their lease for either a PCS or a deployment longer than 90 days. Further restrictions and requirements:
The tenant must provide written notice of the intent to invoke termination rights under the SCRA to their landlord, plus a copy of the deployment or PCS orders. Sometimes, the written orders do not come through within the timeline required. Service members usually get a letter from their commander in such cases.
The lease termination is effective 30 days after the next rent payment is due. So, if rent is due on the first of the month and notice is delivered on April 7th, the termination date will be May 30th.
Landlords can't penalize service members for terminating their lease under the SCRA. They must return any rent collected for periods after the termination date. You cannot withhold a security deposit as a penalty, except to cover damage above ordinary wear and tear, if the tenant provides timely written notice.
To invoke SCRA protections, the service member's name must be on the lease. If someone signed the lease in his or her name with a power of attorney, that counts as well. Some state and local laws extend SCRA protection in cases where a service member lived in the leased property, even if he or she is not on the lease. In such cases, consult a lawyer right away.
Military Clauses
In communities around military installations, landlords often include a "military clause" in leases to address common situations that arise. They cover base housing availability, how to submit notice in the case of orders, or other topics specific to military renters. Regardless of whether or not your lease includes a military clause, the SCRA protections apply to your tenants.
Verifying Orders
Like we said before: under the terms of the SCRA, notice does not start until the rent due date after the landlord is provided with official orders. But, as we also mentioned, service members don't always have physical orders far enough in advance of their move date. As a landlord, you are certainly entitled to hold your tenants to the letter of the SCRA. But, especially during the busy PCS season, it's in everyone's interest to work with tenants trying to provide you with as much notice as possible. If your tenant is waiting on orders, you can request a signed memorandum from their commander on unit letterhead. That counts as written verification. Or you can verify by calling the base and contacting the Public Affairs Officer of your tenant's unit. They can direct you to the appropriate person to verify your tenant's PCS/deployment orders. Understanding and flexibility when dealing with such a stressful aspect of military service is the right thing to do. And a great way to generate referrals.
A Final Note
It is important to keep the channels of communication with your military tenant open. Encourage them to keep you informed. Even if they receive PCS orders 60+ days before their anticipated move date, they may not be able to schedule exact packing and moving days until closer to it. A solid working relationship and willingness to work with your tenant will make for a smoother transition for everyone. Remember, the service member has very little control over the timing of their movements. So an accommodating attitude on your part will be deeply appreciated.