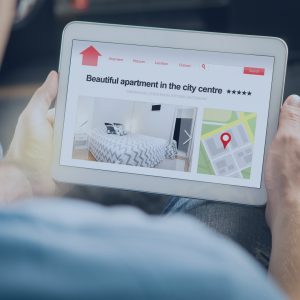 Most military members typically start their housing search online, meaning you have only a few seconds to attract their interest and entice them look further instead of scrolling onto the next listing. It's important to include comprehensive photos and a detailed description in your listing.  AHRN.com  provides the following guidelines to help you best represent your property!
1.  Photos, Photos, Photos:
We can't emphasis enough the importance of photos in your listing.  Military members rely on photos to evaluate their housing options from a distance.  You can attach up to 10 photos to a Bronze listing and 20 photos to a Gold listing.  Your first photo should be a clear, bright picture of the front/outside of your property.  Use the remaining photo slots for all the main rooms, including kitchen, living room, bedrooms, bathrooms, etc. Be sure the living area is clean and well lit when taking these photos!  With the new mobile responsive AHRN site, you can take photos with your phone and attached them directly to your listing!
2. Describe The Properties Best Features:
Make a list of the most unique and appealing features of your property. Think of everything, from location to unique features such as a chef's kitchen or an open living/dining space, a fully built basement, upgrades and smart or green features, the size of the yard, basement or garage space, proximity to schools, playgrounds, a thriving town or notable nature, light and views, amenities like a pool, gym or event room in high rise or in the housing campus etc.  Keeping your target audience in mind, arrange a list of features most important to your potential renter/buyer.
3. Make The First Sentence Count:
The first sentence (and paragraph) is all-important to attract attention and entice the potential tenant to read further.  Use the Listing Title field to highlight your property's most unique feature, such as recently remodeled, close to metro, quiet neighborhood, etc. This Listing Title is highlighted in the listing summary and can separate your listing from other listings.
4. Write it Well:
Proper grammar and punctuation is key to presenting a professional image. Refrain from writing in all caps, which could be translated as shouting at your prospective buyer/tenant. Avoid things like smiley faces, LOL's, and use exclamation points sparingly.
Proofread your listing text to eliminate typos and poor punctuation. Create your listing description in a Word document first, using spelling and grammar checking.  Once you are finished editing, simply copy and paste the description into your listing.
5. End With a Call to Action:
Don't miss this prime opportunity! The last line should invite them to act by using phrases such as: "Call now" or "Visit this home by contacting XXX."  Double check that your contact information is accurate, it's easy to mistype emails, phone numbers, or web urls.  Test any hyperlinks to be sure they work.
6. The Right Length:
Your Listing Description should be 250 words or less. Remember, your objective is to capture their interest and entice them enough to pick up the phone for more information, or book a visit. How do you do that most effectively?
Here's an example of an actual ad and a rewrite using our tips:
Original Description: (302 words)
This large 3 bed / 2.5 bath craftsman style home is open, airy, bright and cheerful. With over sf of space, lots of upgrades have been made to the home.
The kitchen has premium stainless steel appliances. It has hardwood style flooring downstairs with upgraded newer carpet upstairs. The home is full of designer colored walls with stylish flooring and upgraded lighting and new wood interior blinds which makes for a cozy home. There are 3 large bedrooms and a loft upstairs that can be a family room, den or office (is now being used as a 4th bedroom). The master bedroom is private with an extra large bathroom with large walk in closet plus two storage closets, separate toilet area and a 6 foot soaking tub / shower.
Oversized, two car garage with alley access. The backyard has been beautifully landscaped with a flagstone backyard patio and privacy fence. The front yard has abundant greenscape.
The home is situated in the highly coveted area of Northwest Landing DuPont which is an established, tight knit community. It is located in a quiet low traffic area with great neighbors, right next to a trailhead for those nature lovers or joggers. The home is located within walking distance to both Chloe Clark Elementary School and the brand new Pioneer Middle School.
This home is just 10 minutes from Fort Lewis and McChord AFB. Intel and State Farm have campuses in DuPont and it is an award winning master planned community that is a very walkable, safe, desirable and neighborhood.
The home is available for move in 6/16/14. Application fee and background check as well as reference check will be performed on all applicants.
Call today for more information / pictures, to schedule a viewing or to receive an application for processing. Thank you!
Contact: XXX at 555-5555
email: 555@gmail.com
AHRN.COM's Recommendations: (259 words)
Feel welcomed every time you arrive at this bright and airy Craftsman single-family home!
Situated in the highly-coveted area of Northwest Landing DuPont, it's a quiet, low-traffic area with an established, tight knit group of great neighbors. The award-winning planned community is safe and easy to navigate. Both Chloe Clark Elementary School and the brand-new Pioneer Middle School are within walking distance, you're next to a trail head for nature lovers, hikers and joggers, and just 10 mn. from Fort Lewis and McChord AFB main gate. Intel and State Farm also have campuses in DuPont.
The spacious 2,350 sf. house offers 3 large bedrooms and 2.5 baths, plus a loft to make into an office, game room, den or 4th bedroom. Your master has it's own extra-large bath with a luxurious 6' soaking tub and shower, private toilet area, and 3 closets – one a large walk-in.
Chefs will love the kitchen with stainless steel appliances and ample counter and cupboards. Get the best of both floorings with stylish hardwood on the first level and new carpeting upstairs, accented by designer-colored walls, new wooden blinds and upgraded lighting throughout.
Your living space extends to the yard, find a secluded oasis surrounded by rustic wooden fencing, where you can relax and enjoy outdoor dining on the flagstone patio amid beautiful landscaping. And make great use of the over-sized, two-car garage.
Available 6/16/14. Call (name) at 555-5555 or email: xxx@gmail.com now for more information/pictures, to schedule a viewing or apply. Talk soon!