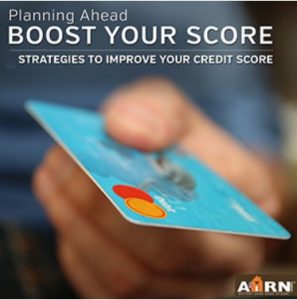 Your credit score is the gatekeeper controlling access to loans for major purchases such as a car or home.  Here are the basics you need to understand about your credit score.
There are three national credit reporting bureaus; Equifax, Experian, and TransUnion.  These three companies all create a credit score for you and may be used when you are requesting a loan or even during the rental application process.
Each company may use slightly different formulas to calculate your credit score.  However, there are five primary factors taken into consideration:

Payment History – Have you paid your bills on time?
Amount of Debt You Have – This includes both the total amount of debt and your debt to income ratio.
Credit History – How long have you used credit? What is the average age of your credit accounts?
Types of Credit – The types of credit accounts you have, including revolving accounts (ie., monthly credit cards) and installment accounts (car payments, etc.).
New Credit Inquiries – Any new applications for credit you have recently initiated.

Here are basic guidelines to improve your credit score.

Make all of your payments on-time. The best practice is to make your payments on-time and in full.
Don't max out your credit card limit. Know your credit limit and do not run up charges to that limit.  Maxing out a credit card can be a sign of not being able to manage your spending.
Don't automatically cancel old or unused cards. Cancelling these cards can impact both your debt to credit ratio (reducing your amount of available credit) and credit history (length of time you've had the card and your payment history).  While there are also good reasons for cancelling unused cards, be aware of these possible negative effects.
Use credit cards responsibly for month to month expenses. Using a credit card instead of cash for regular monthly expenses can help build your revolving credit history.  The key to using credit in this manner is to limit your purchases to regular monthly expenses and making payments on-time and in full.
Don't apply for credit you don't need. Credit card applications trigger a credit inquiry.  Too many credit inquires can raise a red flag and negatively impact your credit score.
The ability to access credit is largely determined by your track record for prudently managing your money.  Following basic money management guidelines will help maintain a healthy credit score, allowing for access to credit when you need it.