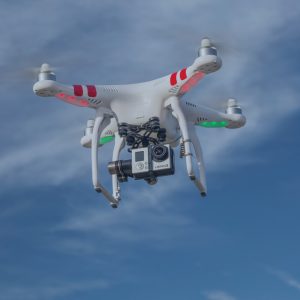 Get on top of emerging trends with your 2019 listing marketing strategy!
The overall 2019 housing market saw healthy growth in 2018 thanks to low-interest rates, lower gas prices, stronger wage growth and more millennial buyers jumping into home ownership. Listing marketing turned increasingly to mobile as casual internet browsing is done more and more on the go. What's coming down the pipe for 2019 and will you be taking advantage of it?
Taking your listing marketing strategy to the air
Drones have been approved for flight – and they could take your listing marketing with them! Drones that can easily create a high-quality video that is shareable on social media make a great way to attract tenants and home buyers with a different perspective on a home and neighborhood.
"I could teach you to operate [a drone] in 30 minutes," said Tim Nguyen, a San Mateo, Calif.–based business-development manager for China's DJI, the biggest maker of UAVs, who said real-estate agents and buyers can use drones to do live postings to social media. "It's a new way of interacting with clients and buyers from all around the world," Nguyen said.
The bird's eye view is a popular video style among the younger demographic that makes up the bulk of the military community. Use it to create shareable, compelling video content for your social media posts!
More & More Mobile
According to Email Monday, "79% of people surveyed use their smartphone for reading email – a higher percentage than those who used it for making calls." People are also doing a continually increasing amount of their online browsing, especially social media, on their mobile devices. If your online listing marketing strategy isn't optimized for mobile users, you are not getting the most out of your investment. And that is only going to become more vital in 2019.
Emerging "Surban"
One emerging trend in buying behavior is the move away from suburban sprawl and its accompanying challenges – traffic congestion and longer commutes. Instead, home buyers are finding a compromise with "surban" neighborhoods. With surban living, it's possible to walk to work, like in a city, as well as enjoying pedestrian access to groceries, entertainment, and youth- and sport-friendly parks — plus reliably strong public schools. While your military clients are unlikely to be walking to work, the increasing population of military spouses maintaining professional careers make this a more attractive option for military families. Surban style neighborhoods may encourage families who typically prefer to live on base to find similar convenience in surrounding communities.
This means that the "community" aspect of your listing will become even more compelling. What shopping is nearby? Are there walking trails? What activities are considered "in the neighborhood"?
Election Ripples
The election of Donald Trump is already sending ripples through both the military and real estate communities. If a Trump administration successful introduces the regulatory relief that's been suggested, it could make more credit available for home buying. At the same time, his anti-government spending initiatives could contribute to market instability.
While little is known about any actual policy changes regarding the Department of Defense, initial talk points to a return to a larger military of potentially 500,000 plus. Those manpower increases would bolster populations and spending in many military markets that have slumped due to decreased numbers of active duty personnel. If General Mattis is confirmed as Secretary of Defense, it could indicate a degree of protection for BAH and pay increases.
Adjusting For The Trends
So, what do these trends mean for your listing marketing in 2019?
The popularity of drones and their video capability speaks to the importance both platforms and consumers are placing on video content and creative perspectives. Whether it's in your listings themselves or on social media, video should play a role in how you share your listings with potential clients. It also could be a fabulous add-on to provide for your homeowners.
In the same way, the increasing number of mobile internet use should push your listing strategy to mobile-friendly channels. In particular, your email communications should be regularly assessed for their readability and functionality on mobile devices. Your website and the places you choose to advertise your listing on should be as well. While not everyone is using mobile, the military market, in particular, is one that relies on mobile technology!
The surban trend and election impact have a less direct influence on your listing strategy, but shouldn't be discounted as you plan your 2017 marketing. The shift towards a more urban style indicates that properties with easy, walking access to conveniences may be more attractive to military families that previously would have prioritized suburban space. The qualities that you emphasize in your property listings may need to shift accordingly! At the same time, the election's impact will shake out over the next months. If economic growth continues, and interests rates begin to rise, military families may be more driven to buy before future rate increases. That sense of urgency could give military markets a substantial boost!
What trends are you seeing in your local military community?