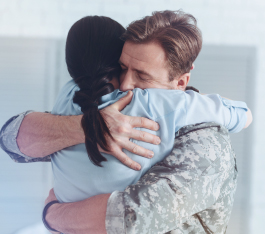 Military life presents many challenges to families navigating frequent moves, periodic separations and heavy training schedules. Over the years, programs and policies have developed to provide tremendous support, but families still sometimes find themselves in the position of having to make a difficult choice. What do you do when it seems to make more sense for the family and the service member to live a part?
What is a Geo Bachelor?
"Geo-baching" is a common, although unofficial, term for when a military family chooses to maintain two households. Typically, this occurs when a service member receives orders for a duty station that is not beneficial for the rest of the family. As opposed to a hardship tour where the orders do not include dependents, geo-baching is a choice that the military family makes due to personal reasons or preferences. As such, it is treated differently by the DoD.
Why Become A Geo Bachelor?
Every family's situation is a little bit different. There are some common reasons for choosing to be geographically separated for a time:
spouse job stability or progression
owning a home in that location
preparing for retirement
school/environment stability for children
medical care consistency
What About BAH for Geo Separated Spouses?
As a rule, BAH is determined by the Service Member's assigned duty station regardless of where the family chooses to live. This policy is guided by the need to budget a predictable amount of money for the military's expenditures. To find out your expected BAH, log in to your AHRN.com Dashboard and complete your profile with the installation in question.
Traditionally, geo-bachelors were offered the option of occupying barracks quarters. That option has been reduced or eliminated at many installations in recent years leaving apartments, a roommate or setting up a second household off post to be the most viable option for most service members.
Exemptions
There are times when the military recognizes that it is in the best interest of the family to be geographically separated. In those instances, the service member can request a BAH exemption so that the family member's location is used to determine BAH. The most common reason for exemption is medical care when a family remember requires care that is only available at a specific installation Medical Treatment Facility or other provider. In that case, it is likely that verification from medical providers could be necessary and the request will need to be filed through the chain of command.
Alternatively, when the service member is being assigned to a position where they will be technically PCS'd to one location but deployed forward or spending the majority of the assignment at another location, an exception may be requested. Service members assigned to MIT teams were frequently offered this option instead of PCSing the family to whatever training base was utilized to bring the MITT together.
In general, though, families should expect to maintain the two households on the BAH of the service member's assigned duty station.
Other financial factors
When considering the option of geo-baching, it is important to take the long view and consider unintended expenses that result from the family's separate households. There is the basic cost of maintaining two households with two deposits, two sets of utilities, and the daily expenses included. Additionally, there will be times throughout the separation that you made need to travel back and forth – either the service member or the family – in order to spend holidays together or for medical emergencies or simply support. Building those travel expenses into the budget is important to avoid financial stress down the road. If the family has children, there may also be increased child care expenses to consider.
Need To Do More Research?
Start by getting the details on your new assignment by completing your AHRN My Account Profile