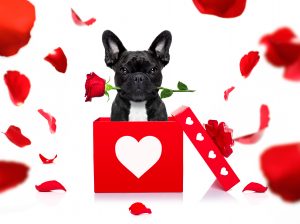 While each day is a chance to show your significant other you appreciate them, February 14th is an opportunity to make your someone feel extra special – while doing something fun! What that is can vary greatly, depending on whether you're working, alone time around kids, it's just you two, or your love is long distance. Here are some suggestions for all!
Just For Two
Remember when you were first falling in love, and anything you did together was great just because it was… together? Call on that and fall in love all over again as you do these things:
Share an Experience – Websites like Cloud9 offer all kinds activities, to be enjoyed different cities. They have gifts for him, her or couples as well as a special Valentines Day link. Plug in your state or nearest city and you can be skydiving, race car driving, hot air ballooning, or enjoying a sunset cruise, a couples spa date, kayaking tour or a wine tasting to name a few!
Do a Couples' Photo Session – You can look up photographers who do this in the closest city. They have professional lights, and sometimes provide make up and costumes. Or, like engagement photos, you get ready on your own and arrange for really nice pictures in your favorite setting. You can do come version of this on your own, as long as it will not become a stressor. Find self portrait tips on PhotographyConcentrate.com.
Cook Together — But not your same old same old! How about making something you both love that you usually only have once a year  —  like a full Thanksgiving style dinner, or trying something new from a recipe – or making their favorite meal. Get out the good stuff and set the table with it, candles and toasting glasses.  Even if one of you doesn't cook, give them simple jobs or not, but have them hang out with you all through. The point is to do it together, giving you plenty of chances to laugh, flirt and canoodle!
With Kids
If you can do what you need to carve out time just for you two, one theory says it'll make you better parents! But there are years you may still need to do things as a family. If so, these dates are great with or without the little ones:
Performance Tickets – Check into to something like Blue Man Group, Stomp, Cirque du Soleil, and the Planetarium. They won't break the bank and are not like plays or sports – they are all-round pleasers, with such intimate settings, you rarely get a bad seat.
Animal Experiences – Search your local zoos and aquariums for behind-the-scenes encounters with animals, or things like being vet for the day. They often cost little in trade for a once in a lifetime experience.
Star Gaze – If you live where the skies are clear and it's warmer – bring light bites and libations, cozy up on a blanket, and use the Startracker app, to name what you see — even better if you can borrow or rent a telescope!
Long Distance Love
You have to get creative for any great date – but if you're long distance, that can take a little more imagination and planning. Connection is the key – and you already know FaceTime, Google Hangouts and Skype make all the difference. But for this special date, why not shake up how you use them?
Dance Date – Remember the old romantic mixed tape? Did you two bond dancing the night away to a juke box in a dive bar or on a night club dance floor? Suggest it in advance so you each have a little time to prepare. Recreate it by making a playlist of those songs, dress as close to what you both wore then as you can, send a drink list in advance so you can each have what you need. Play the music, make your drinks, talk over it at your "table" and when the mood strikes get up and dance together! Not just one song, but many!
Take a Romantic Drive – Together. Pick a time that works for sunrise or sunset – or a gorgeous day. One of you can mount the phone so you can switch between you driving and the scene on the road. Comment about what you see, or be silent for stretches to take it all in. You may be delighted at what conversation comes up more easily on a drive.
Dating while one or both of you are deployed warranted a few links. Get 25 Long Distance Date Ideas from a military spouse on the blog, a Semi-Delicate Balance. And find 100 Fun Activities For Couples to Do on the Loving From a Distance Blog:
I hope these ideas will get your wheels turning and you can come up with other ideas. I bet you'll end up feeling this was one of your best Valentines Days yet!