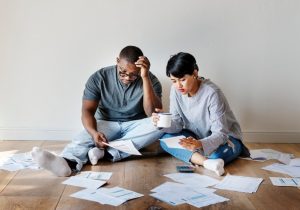 Veterans Administration (VA) loans are one of the many benefits of military service. Potential homeowners can qualify for this loan if their debt-to-income ratio meets VA standards. So, what exactly is the debt-to-income ratio or DTI?
DTI measures the borrower's monthly debt against his or her gross monthly income and helps lenders determine if you meet the qualifications for a VA loan. It is expected that you will have some debt which is why this ratio, which factors in all of the borrower's monthly debt, from housing costs and revolving debts to anything considered relevant, matters to VA loan lenders.
What is a Good DTI Ratio?
The VA's benchmark is 41%, but loan lenders are not restricted to that number. The higher the ratio, the more likely that your monthly expenses will exceed your monthly income, this is noted as a red flag. If your number does not meet the standard, do not panic right away. Military members can find different DTI ratio standards from different lenders. Some might push beyond 50 percent, depending on how strong your other financial and credit factors are. Also, other parts of your financial history influence the lender's final decision. It is essential to monitor and maintain a healthy credit score.
Calculate Your DTI Ratio
So how exactly can you calculate your ratio? Simply divide your significant monthly debts by your gross, meaning pre-taxed, monthly income. Here's an example for you:
You earn a $60,000 salary. Divide that by 12 to find your gross monthly income: $5,000
Debts include your $450 payment for a car loan, $900 on your new mortgage and $600 on other obligations. Your total liabilities for the month equal $1,950.
Divide the $1,950 in debts by your $5,000 gross monthly income for a back-end DTI ratio of 39%
It's important to remember that DTI ratio is calculated using your gross income. Having a lower debt-to-income ratio will indicate a healthier overall financial status. A high DTI could suggest that a borrower will be stretched too thin financially with the mortgage payment they are considering.
What incomes and debts do VA loan lenders use for DTI ratios?
Here's a list of possible incomes and debts that lenders use:
Examples of debts
New Mortgage payments
Car payments
Credit card minimum payments
Student loan payments
Examples of incomes
Earned income
Bonuses
Tips
Overtime
Commissions
Lowering Your DTI Ratio
The easiest way to reduce your DTI is to pay down some of your debts.  Review what you need your debt to be to get down to the 41% DTI and then look at what you can pay down to get there.
The best advice is to be proactive, organize your finances and review your loan requirements before you begin the application process.
For more information on VA loans click HERE.