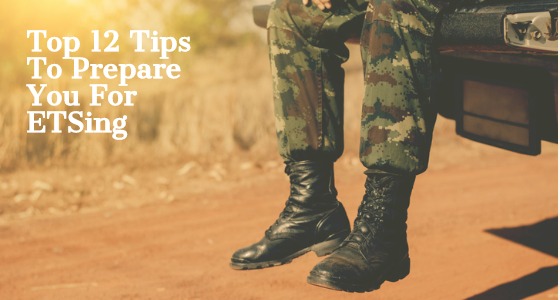 The million dollar question…are you ready to transition to civilian life? The best thing to PREPARE you for transitioning into the civilian world is to properly and simply PREPARE. Civilian world is very different from the military. It can be completely opposite, and actually may seem meaningless. Just like PCSing, you'd prepare ahead of time, search for new neighborhoods, learn about new installations, and find a new home – you taking steps to move your life from one installation to another and preparing ahead of time for a PCS. We are preparing you to consider this approach for your military separation.
Don't be apprehensive about making this transition. Entering the civilian workforce can be easier than you think. Check out these top 12 tips from AHRN.
Start your research ASAP. Where will you live? What industries will you target? How will you get around? How much do you have in savings? Who will help support you until you get on your feet? Many experienced professionals say that a successful transition requires about one year of planning. If you feel overwhelmed, think about the process like a marathon, not a race. Research and plan slowly, don't cram it all into one nerve-wracking session. Think about your priorities and goals, then explore what needs to happen to make them a reality.
 Connect with a Support Network. Keeping in contact with a support group or network, including your mentors, can help veterans work through any issues that arise in the workplace, on campus or at home. It's difficult to make the transition from life in the military to a typical 9-to-5 job, but surrounding yourself with support from others who have made that transition successfully is important and can help you continue to grow personally and professionally.
Don't put all your eggs in one basket. There are many resources to help you find work, and many job opportunities out there. If you rely on a single resource or a single job opening, you'll be setting yourself up for failure. Cast a wide net. If four out of five opportunities falls through, be thankful you didn't just go after one.
Keep your social network clean and professional. What happened in the military when you didn't pass inspection? Well, when you're a civilian you'll have to think in those terms in relation to social media and job networking. The difference is, instead of receiving some type of punishment, you'll lose out on job opportunities.
Create a customized transition plan. Don't make the mistake of thinking that you can move back home and figure it out from there. The military provides resources to help you relocate after separating, but that only flies once. After you're out, you're out. Think about where you'll move, and how you'll make a living once you get there. Which cities provide the best job opportunities? Where will you find companies related to your industry? What's the cost of living?
Learn the civilian culture. Your military experience makes you a valuable asset, but don't bury that in lingo that civilians don't understand. Talk about your military job, not your PCS. Break down jargon and acronyms into easily understood terms. Your goal is to convey your work history and experience to someone who's most likely never been in the military. They value leadership, motivation, creative thinking, and professionalism, and you don't need jargon to convey any of that.
Learn how to self-promote. Unlike the military, civilian employment requires some measure of self promotion. Self-promotion is an attempt to present yourself to others as an accomplished, capable, smart and skilled person. There are a variety of ways to self-promote such as face-to-face conversation, through blogs or social media platforms, in public speeches, through mannerisms, posture, speech or dress. You have to learn how to highlight what makes you an ideal employee. When did you take charge of a situation? How well did you work with your team? Sometimes you'll have direct experience relating to your preferred field, by simply being in the military, you have one leg up on soft business skills like communication, timeliness, leadership, and more.
Explore every opportunity. Don't limit yourself. Think big, throw everything at the wall. Spending a few hours researching one possible career path costs you very little, but you'll benefit immensely from shaking things up in your head and drilling down to what you really want to do.
Get a Higher Education.  One of the most important first steps for any person transitioning from the military to the civilian world is to determine your next career path. Identify what you are most interested in, evaluate your current credentials and examine your areas of expertise. Keep in mind, some of the experiences obtained in the services can parlay into college credits. Finding colleges and universities that offer military-specific courses and veterans services can be helpful in making the career-move from the military to an educational program. Many of these military-oriented programs give veterans meaningful career skills, as well as general education credits, allowing for direct enrollment into an accelerated degree program afterwards. Enrolling in a degree program that doesn't match your interests or long-term goals is counterproductive and may not help your transition to the civilian workforce. Understanding what your background, qualifications and interests are before deciding on a degree program will ensure that you make the most of the time and money spent working to earn a degree.
Display your military achievements. Because most civilians don't understand the military, especially the day to day of it all, you'll have to draw a clear picture on what you accomplished during your service. That doesn't mean you need to lay down all the brutal details, but figure out how your service relates to the qualities an employer is looking for in a candidate.
Don't settle. Unless you're truly in need of a job, don't settle for the first opportunity that floats by. Just because it's there doesn't mean you need to take it. If you've planned properly, you should have plenty of time and resources to figure out the right job for you.
Make a strong first impression. Slovenly dress and behavior didn't fly in the military, and there's no reason why those standards shouldn't carry over to the civilian world. Of course, civilians tend to be more relaxed, so you don't need to be quite as urgent or gung-ho. But, maintain high standards for yourself in terms of dress, directness, and professionalism.
Did you miss The Power of the VA Loan Webinar – What You Need to Know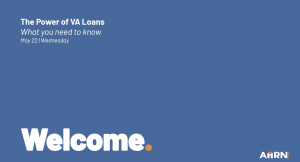 Click Here to Get the Webinar Replay
Simply re-enter your name and email for direct access to the slides & recording.