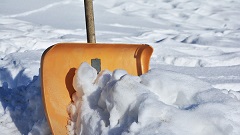 Does your lease agreement clearly state who is responsible for snow and ice removal on your property? If you are unsure, it's time to review the snow removal language in the lease agreement. The lease is your first opportunity to clearly communicate responsibilities for keeping the property safe during the winter months. If your tenants are responsible, here are some tips to ensure they properly maintain the outside areas.
Communicate. Make absolutely sure your tenants understand their snow and ice removal responsibilities. Walks refreeze at night. Snow can fall for several days. Keeping walks clear requires daily cleaning and salting. Clearly communicate the language in the lease that makes them responsible, including expectations for clearing (areas to be cleared, timing, penalties for not clearing snow, etc.). Explain to them what happens if someone should slip, fall and sue.
Empower. Provide a bag of sidewalk salt and snow shovel at the beginning of winter to remind them of their responsibilities. Send reminders in the monthly rental invoices.
Enforce. If you live nearby, check up on your tenants after a storm. Remind them that they are liable should anyone fall. Let them know how important it is.
Engage. If none of the above works, consider hiring a contractor with snow blowers, plows and strong backs to clear the sidewalks and drives, then (per your lease language) charge your tenants for the service. Be sure to have have this service and charges clearly communicated in your lease.