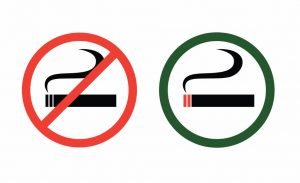 According to the Centers for Disease Control, 16.8 percent of adults in the United States smoke.  As a landlord/property manager, you must decide whether or not to accept smokers as tenants.  Since smokers are not a protected class under the Fair Housing Act, you can set a smoker/non-smoker policy without discrimination concerns.
Points to Consider
When deciding whether to accept tenants that smoke or allow tenants to smoke in your property, there are a number of factors to consider, including;
Impact on pool of potential tenants
Increased maintenance/post-tenant cleaning costs
Increased risk of fire damage (approx. 90k fires annually due to smoking materials according to the NFPA)
Potential impact on other tenants
All of these factors have significant impact on both your ability to rent the property and ongoing maintenance costs.  You must decide if you are willing to potentially exclude 16.8% (or more) of the potential renter pool by adopting a non-smoking policy.  If you decide to accept tenants that smoke, are you prepared for the increased move-out cleanup cost, and the fact that the property may no longer be acceptable to non-smoking applicants?  Is there acceptable middle ground (smoking only allowed outside the property) that can be addressed through your rental agreement?
Be sure to clearly state your smoking/non-smoking policy upfront when initially advertising the property or screening tenants and within your rental agreement.
When setting your smoking or non-smoking policy it is important to consider the impact on the property itself, other tenants, and the renter demographics in your rental market.  Taking all of these factors into consideration will determine the appropriate policy for your situation.