Now that the 2018 BAH rates are official, it's time to start searching for that perfect home that meets both your lifestyle and budget.  AHRN has integrated the 2018 BAH rates into your account (based on the Grade, Dependent Status, and Gaining Installation selected in your Account setup) to make your housing search easier.  There are a couple of ways to search for housing based on your estimated BAH amount.
Match Your BAH: This link is located on your AHRN Homepage and will return all listings that fall within +/-25% of your estimated monthly BAH amount.  When you click on this link, all listings regardless of property type will be returned.  As you review the listings, click on the BAH calculator icon to view the calculated BAH Rent amount compared to the listing rent.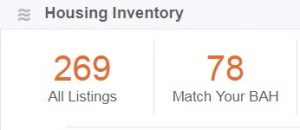 New Search: The New Search form allows you to specify a rent range (low/high) to search within.  Knowing your estimated BAH, you can specify the rent range using these fields.

Remember, the 2018 BAH rates are intended to cover 96% of housing costs, with the remaining 4% being out-of-pocket cost for the servicemember.  Also, a portion of the monthly BAH is intended to cover utility costs.  Be sure to budget for monthly utility costs, which can vary widely based on the local climate.