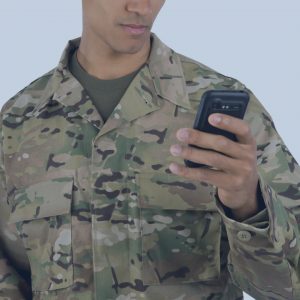 Military families count on an extensive network to navigate frequent moves. For many property managers, this means building thriving businesses largely by word of mouth. But those real estate professionals are potentially leaving business on the table. AHRN.com sought out feedback from military families about how they made their decisions. Word-of-mouth recommendations certainly played an important part in our findings – but how they gathered those recommendations and what they did with them may surprise you!
Real Estate Word of Mouth
We were not surprised by how many of our respondents mentioned asking friends for suggestions as one of their first moves when they received PCS orders. But very few of those requests were done in person or on the phone. They turned to social media like Facebook to cast a broad net. Are you maximizing your social media referrals?
With so many users browsing social media on their mobile phones, it is unlikely that they have your contact information close at hand – even when they want to suggest you to a friend. But are your happy former clients able to tag a business page so interested friends can easily get in touch? Having a Facebook  business page so those word-of-mouth referrals can tag you (and keeping that page current and active) is a vital component of today's online marketing. It is an easy and straightforward way that people can quickly put someone in need of your services in touch with you.
Real Estate Pros Need To Be On Social Media To Build Credibility
When your tenants have a variety of choices, how do you stand out? Social proof is a powerful way to build trust and credibility with new/potential clients.
Recently, I was interviewing construction companies to re-do a deck. I couldn't find much about them anywhere online. I didn't hire them because they had no digital footprint and it felt too risky.

–Lisa Klinkhammer
An active, up-to-date online presence establishes social proof. Satisfied clients who have liked and engaged with a Facebook page and left positive reviews are a simple way for home searchers to see the impact of your business.
Availability
Ideally, military families have 90+ days to prepare for their move and make housing decisions – but that's not always the case. Community research and home searching are frequently being done with short timelines and via mobile devices. This makes response time and availability on the part of property managers a key issue.
Social media channels like Facebook offer an effective, accessible way for tenants or home owners to get in touch with you, even when they are on the go.
Digital Communication
Effective online marketing does more than simply put your name out there. It also includes making the most of those initial interactions with potential tenants or property owners. Know what information you consistently need to convey  and keep those documents and files easily accessible via a file sharing service like Dropbox.
photos
floor plan
flyer PDF
video
applications
contracts
service information
Is your online marketing plan doing its job? It should include:
Up-to-date website with mobile friendly browsing
Facebook business page
Prompt communication via a variety of channels including phone, text, and social media channels.
Clear, effective digital communication to make it easy to begin doing business with you
Are any of these pieces missing from your marketing plan?