By Douglas McGowan, United War Veterans Council Chairman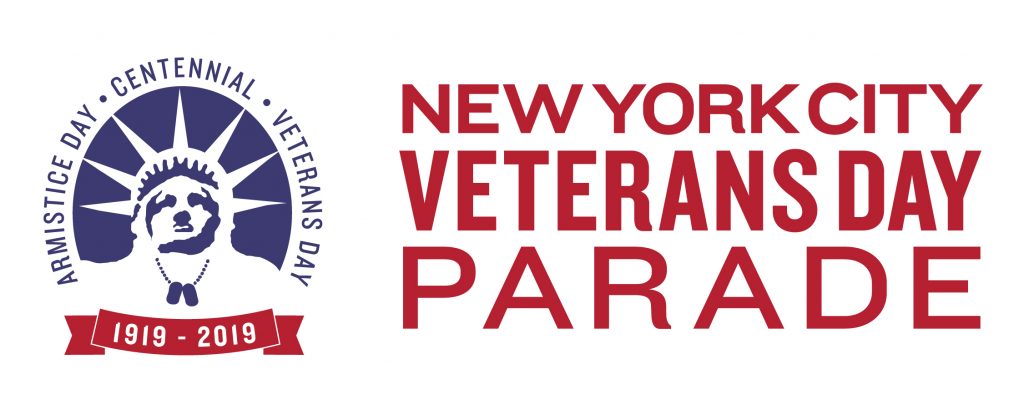 Let's All March Together as Grateful Supportive Americans In the 100th Annual New York City Veterans Day Parade
About This Year's Parade
Tens of thousands of veterans, active duty military personnel, college and high school bands, and people from all walks of life will march up Fifth Avenue on Monday, November 11th. Accompanied by floats, cars, trucks, military vehicles and more, these men and women will take part in the 100th annual New York City Veterans Day Parade, the largest commemoration of service in the United States.
Starting at 10:30a.m, military leaders and elected officials will offer remarks during the Opening Ceremony in Madison Square Park. A solemn wreath-laying ceremony will take place at the Eternal Light Memorial Flagstaff in the park at 11a.m., remembering that the Armistice to end World War I, "the war to end wars," took effect at the 11th hour of the 11th day of the 11th month.
The parade steps off at noon from the intersection of 24th Street and Fifth Avenue and proceeds up Fifth Avenue to 48th Street. It will be broadcast live and live-streamed on WABC-TV 7 and on Armed Forces Television.
The five Grand Marshals for the 2019 Veterans Day Parade are:
Herschel "Woody" Williams, awarded the Congressional Medal of Honor for his service with the Marine Corps in World War II.
Hiroshi "Hershey" Miyamura, awarded the Congressional Medal of Honor for his service with the U.S. Army in the Korean War.
Former U.S. Sen. Bob Kerrey, awarded the Congressional Medal of Honor for his service with the U.S. Navy in the Vietnam War.
Eddie Ray, awarded the Navy Cross for his service with the Marine Corps in the Gulf War.
Zachary Iscol, a decorated Marine Corps Infantry Officer who served two tours in the Iraq War, fought in the second battle of Fallujah, and has dedicated his life to serving his fellow veterans, founding three unique organizations dedicated to serving their distinct needs.
The U.S. Marine Corps is the featured service for the 2019 parade and General David H. Berger, the Marine Corps Commandant, will lead from the front and by example as the Honorary Grand Marshal.
Why We March
The United War Veterans Council (UWVC), a non-profit group that traces its roots to the Spanish-American War and was responsible for rescuing the parade from near extinction in the 1980s, produces the parade and urges all Americans to put aside political differences for one day to honor our veterans.
The UWVC's vision is best illustrated by a quote from George Washington: "The willingness with which our young people are likely to serve in any war, no matter how justified, shall be directly proportional to how they perceive the veterans of earlier wars were treated and appreciated by their nation." The point of the Veterans Day Parade is to remind all Americans, to include our elected leaders, of the debt of honor owed to those who serve our country. We hope to motivate those elected leaders to provide veterans the services they have earned, the services they need, the services they are too often denied.
The UWVC works year round to address those needs, with health and wellness programs and other services. This is not about providing charity. This is about utilizing the best and the brightest talent this country has to offer. Veterans have a proven ability to lead. They are highly trained, skilled, and know how to collaborate with their peers.
Visit uwvc.org for more information.
The Spirit of Veterans Day
Veterans Day reminds us that as a nation we must do more. More to address the physical and mental health needs of our veterans, more to provide housing, more to provide employment opportunities. 
In our deeply divided nation today, recognizing and fulfilling our commitment to our veterans must be something on which we all must agree. None of our Grand Marshals, none of our veterans, went to war as Democrats or Republicans. They served their country as Americans.
They did not ask about the political leanings of their commanding officer or the Soldier, Sailor, Airman, Marine, Coast Guardsman, or mariner fighting next to them. They bonded through a common belief in the values we all hold dear and they fought to defend those values. They served and sacrificed for our right to debate, to discuss, to disagree and to pursue life, liberty and the pursuit of happiness.
On Veterans Day, however, let us put our disagreements aside and come together to thank and to honor those who served and are still serving. Let us commit to becoming personally involved in this effort by volunteering with a veterans services organization or by donating to one. Let us commit to writing our elected leaders and urging them to fulfill our debt of honor to those who served.
Let us put some meaning behind the phrase: "Thank you for your service."
About the Author
Douglas McGowan is a Marine Corps, government civilian, and contractor veteran of Iraq, Afghanistan, the Global War on Terrorism and other post-9/11 efforts. He is the chairman of the United War Veterans Council of New York, producer of the New York City Veterans Day Parade, and a native New Yorker.