Few things are more purely delightful in the cold, winter weeks of the holidays than snuggling up with a fluffy, fuzzy loved one. We're, of course, referring to pets here but if "fluffy" and "fuzzy" accurately describe a human loved one then by all means, snuggle up. But as far as pets are concerned, we (as fellow pet-lovers) know how important keeping them healthy. And this time of year there is a particular set of hazards you should be aware of: dangerous plants.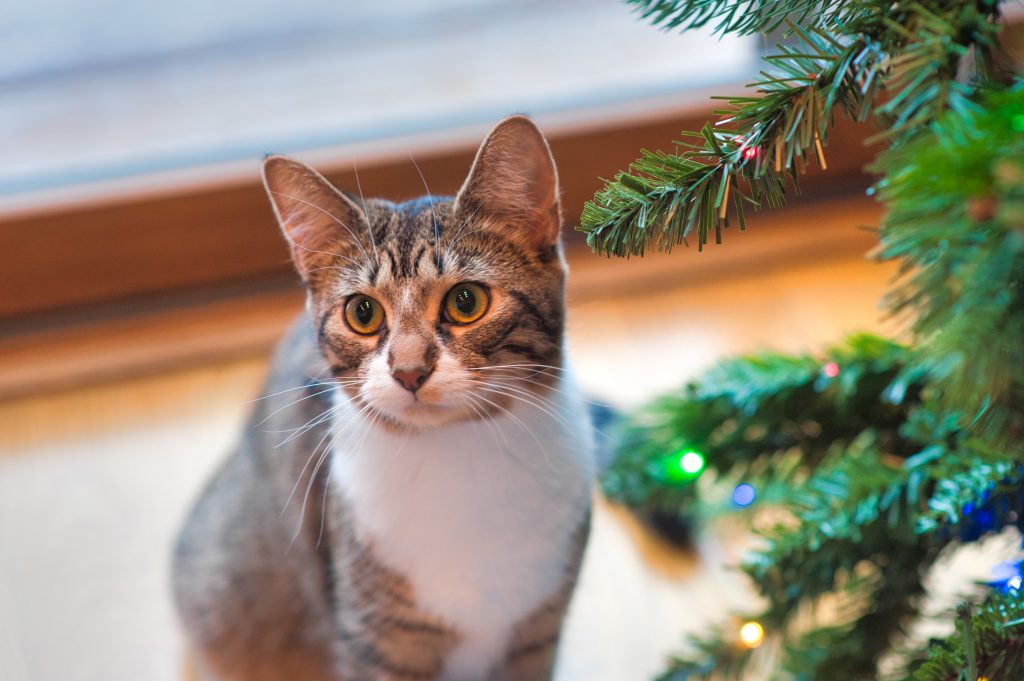 Sure, there are all kinds of plants that are poisonous to animals year-round and should be avoided as such. But there are a number of traditional holiday plants, the kind very often used to decorate your house this time of year, that are particularly toxic to our four-legged family members. And these often-colorful plants may look quite tempting to your pets. Here is a list of these unsafe and the symptoms to watch for if you think a pet may have eaten one.
Amaryllis
Very toxic to cats, although it can also affect dogs, and the bulb contains more toxin than the leaves or flower stalk. Common toxicity symptoms include vomiting, diarrhea, abdominal pain, and decreased appetite. More severe symptoms can be as bad as tremors, kidney failure, and convulsions.
Christmas Cactus
Pretty much guaranteed vomiting and diarrhea if eaten.
Cyclamen
The beet-like stem and roots produce a host of intestinal issues if eaten.
English Holly
The unpleasant taste of this plant should ward off most pets, but you never know. Can cause symptoms as benign as an uncharacteristic amount of lip smacking to more serious ones like vomiting, diarrhea, or depression.
English Ivy
Every part of this plant is toxic. Just like the English Holly it doesn't taste good, but better safe than sorry. Toxicity symptoms range from an irritated mouth, gastritis, or dizziness all the way up to a coma.
Jerusalem Cherry
Another all-around toxic plant, particularly the leaves and the unripened fruit. Symptoms include nausea or vomiting and, if enough is consumed, serious seizures.
Mistletoe
Universally toxic, although not usually life threatening. Symptoms in pets are most commonly depression and vomiting after eating.
Poinsettia
Another ill-tasting one but still worth keeping an eye out if you have any around. May produce a stomach ache, vomiting, diarrhea, excessive drooling, or eye irritation but is unlikely to be fatal.
While some of these are far more dangerous than others, always err on the side of caution. If you suspect your pet has eaten any of these, or anything else poisonous or hazardous, call a veterinarian immediately. When you call, have the following information readily available:
Name of the plant consumed
Part of the plant consumed (leaf, berry, etc.)
How much of the plant was consumed
Approximate time the plant was consumed
Your pet's age, weight and current condition/symptoms
Also, if you take your pet to a vet clinic, collect any chewed or regurgitated leaves to show the veterinarian. Gross, yes, but very important in getting your fuzzy loved one the proper treatment.
Okay, enough scary stuff. Just keep a wary eye on your pets and any plants they sniff around and everything will be just fine. The AHRN Team wishes you (and your pets) a wonderful and safe holiday season. Snuggle up!