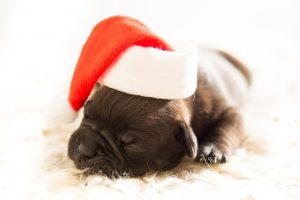 When decorating your home for the holidays, there are a number of traditional holiday plants that are toxic to pets.  These often colorful plants can be new temptations for your pets.  Here is a list of toxic holiday plants and their symptoms if ingested by pets.
Amaryllis
Most toxic to cats, although can also affect dogs. Bulb contains more toxin than leaves or flower stalk. Common toxicity symptoms: vomiting, diarrhea, abdominal pain and decreased appetite. More severe symptoms: tremors, kidney failure and convulsions.
Christmas cactus
Mild vomiting and diarrhea if eaten.
Cyclamen
Foul-tasting, beet-like stem and roots contain toxin that produces intestinal issues if eaten.
English holly
Tastes bad; most animals avoid it. Can produce lip smacking, vomiting, diarrhea or possibly depression.
English ivy
All plant parts are toxic. The leaves taste terrible, which usually discourages chewing. Toxicity symptoms: an irritated mouth and gastritis; in worst cases, dizziness or coma.
Jerusalem cherry
All plant parts are toxic; leaves and unripe fruit more so. Symptoms: nausea or vomiting; if enough is consumed, seizures.
Mistletoe
Possesses intense toxic potential. Symptoms: depression and vomiting after eating, but no more serious symptoms.
Poinsettia
May produce a stomach ache, vomiting or diarrhea in dogs and excessive drooling in cats. Tastes bad, making it unlikely that pets will eat this plant.
If you suspect your pet has been poisoned, call a veterinarian immediately.
When you call, have the following information available:
name of the plant consumed
part of the plant consumed (leaf, berry, etc.)
how much of the plant was consumed
approximate time the plant was consumed
your pet's age, weight and current condition/symptoms
If you take your pet to a vet clinic, collect any chewed or regurgitated leaves to show the veterinarian.
The AHRN Team wishes you (and your pets) a wonderful and safe holiday season!