AHRN and Dog Gone Taxi have partnered to provide you important updates on rabies vaccines, pets flying to the EU and dogs relocating to Hawaii.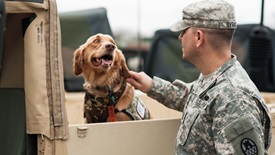 In the Pet Shipping Arena, Health Paperwork Reigns Supreme
Does your pet have the most up-to-date vaccines required by the country to which they're traveling (predominantly Rabies)? Normally, this determines how quickly they'll arrive to their new home and the type of health certificate required. That is, until recently…
Recent news reflects that pets flying into the EU, (Italy and Spain) who are not considered brand new family additions (puppies or rescues), no longer have to fly on the Commercial Health Certificate if they are flying home more than 5 days before or after their family. Even if they have been delayed for up to 1yr before reuniting with their family in the new country.
The Key is the Rabies Vaccine
Is it a family member's name listed as the owner on the Rabies certificate? If it is, then there may be a bit of leeway for you. If your pet has been a part of your family for a couple of years but it is not a family name listed on the valid 3-year Rabies certificate, you'll need to work within the current parameters for your pet's health certificate.
This is not officially in the rule books yet, however, there has been enough discussion among IPATA members working with official vets in the receiving countries who inspect the pets arriving on their Commercial Health Certificate to reevaluate the requirements for commercial vs. non-commercial health certificates. Currently, the military is granted a bit more flexibility in getting their furry family members to them, but will this officially extend to others not affiliated with the military? Time will tell. But until that time it may be best to stay within the current regulations.
Giant dogs to Hawaii
Hawaiian Airlines recently updated their shipping policy, now restricting kennel size to MANUFACTURED KENNELS ONLY. If you have a Great Dane or Mastiff this is very bad news. Unfortunately, a few bad actors making non-compliant kennels ruined this for everyone.
However, Dog Gone Taxi is still able to ship giant kennels to Hawaii.
We have been successful in gaining some work arounds to this. First off, we can build the kennels and sent the kennel for inspection and approval in Honolulu, then disassemble [for lower shipping cost] back to the origin station. We have a "cargo only" airline that accepts giant kennels out of Los Angeles, CA. The only route is Los Angeles to Honolulu.
Also, we are currently in discussions with Hawaiian Air to put together a program of approved shippers that will not need to ship each kennel to the HNL station and back to the mainland for approval. Stay tuned in Nov for more updates on this!