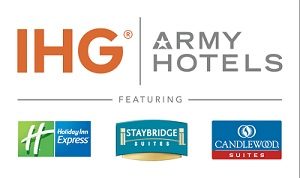 We know the ins and outs of PCS season. We understand the stress and worry that can be put on soldiers and their families during this transitional time. While you're in the middle of this extremely busy move, we suggest a few tips to ensure your move goes as smoothly as possible.
When you first receive your PCS orders, please contact the IHG® Army Hotels property on your new post to reserve your stay. As simple as it seems, the feeling of security that comes with the knowledge of knowing where you will be staying will actually remove much of the stress of the "unknown" that comes with moving.
And with IHG® Army Hotels' long-standing commitment to helping you stay relaxed, rested, and prepared for your day, we provide a comfortable temporary residence in a familiar environment while you prepare and await your new, permanent home.
Benefit 1: We provide the comfort, security, and convenience of staying inside the gates, no matter your mission. And throughout your stay, we offer free on post shuttle services to get you anywhere you need to be on time and on us.
Benefit 2: We understand your needs as service men and women, because we've walked in your shoes. Employing spouses and veterans who have been through the process, we are able to provide the level of experience and empathy to truly provide a unique community on post.
Benefit 3: Every one of our on-post hotels offers complimentary breakfast, weekly socials, and pet-friendly accommodations, all while allowing you to earn IHG® Rewards Club points with each stay.
Find comfort and community with IHG® Army Hotels.  Book Now.