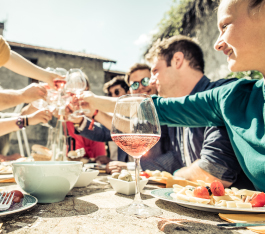 Holidays are a wonderful time to welcome family and friends, but how does it work when you're hosting guests when you live on base?
Living behind the gates of your military installation comes with pros & cons. It's a constantly debated subject in the military community and often comes down to personal preference. During the holidays, living on base raises one extra question – how do you handle family and friends who are coming to visit?
Getting On Base
Your first to do varies from installation to installation, so it's worth taking a minute to verify the policy at your base. In may places, your guests over the age of 12 will simply need some form of picture ID. If they are driving their vehicle on post, they may need to get a pass at the installation visitor's center. Depending on your installation's policies, an ID card holder may need to present when the pass is issued.
Some places, like Fort Knox, will require a pass for every individual over the age of 12 coming on post whether they drive their personal vehicle or come in with an ID holder. It's best to find this out ahead of time, especially for guests with young teens who may not normally travel with photo ID.
Housing Policies – Can Civilians Stay on Military Bases?
In most privatized housing communities, your guests are welcome to stay for 30 days or less with no paperwork or notification. It's worth checking your neighborhood's handbook, though, especially with regards to extra vehicle parking. In those places that require notification of guests, it is generally a simple matter of providing a list of names and the dates they will be staying with you.
Background Checks & Firearms
While it won't apply to everyone, it is worth noting that some installations require basic background checks for guests. Fort Knox, which requires guest registration, does not issue passes to individuals with a felony conviction. (This also frequently causes issues with deliveries!)
For family or guests who enjoy hunting or have a concealed carry permit, you may want to warn them that most installations have stringent restrictions on personal firearms. Letting your guests know the policies ahead of time can prevent a headache at the gate when  you're ready to enjoy your guests and some holiday treats!
Hosting Guests When You Live on Base
Welcoming guests to your home is a wonderful part of the holidays – especially when military assignments have you living far away. For many of our non-military community, visiting is a great way to get a glimpse into those small ways that military life is just a little bit different. Carrying an ID card (and having to show it to make a purchase at the PX/BX), armed guards at the gate and humvees rolling through an intersection aren't part of everyone's normal. A little effort to make sure everyone is prepared and knows expectations goes a long way towards a smooth visit!
Have you ever run into problems with guests visiting your on base home?
Learn more about Living On or Off Base
Decisions: To Live On Or Off Base/Post
How to make friends when you live off base
10 Duty Stations You Didn't Expect To Love