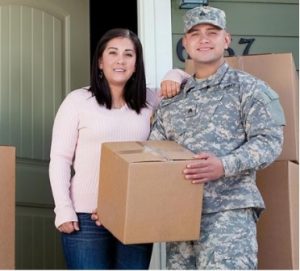 Moving is a part of military life but it doesn't have to be difficult. We've put together a few things to remember to help ensure that you have a smooth relocation experience.
Notify your base:

First and foremost,

 

make sure you make an appointment with your base transportation office as early as possible!
Documents:

Keep a folder that contains all the documents you may need upon arrival.  For example, medical records, military orders and moving documentation.
Clean out your home:

You are responsible to ship your personal belongings from one duty station to another.  Thoroughly walk through every room in your current home and organize piles for keep, trash, and sell.  Make a list of all furniture and items you are keeping to make sure they make it to your new home. This clean out should include canceling your utilities and forwarding mail.  
Decide if you are going to sell or lease your home:

If you are a homeowner you have to make the decision of selling or leasing your home once you are moved out.  If you are a renter, now is the time to inform your landlord on your move out date.
Go to the finance office:

The finance office will help you with all the expenses that come with moving.  They will outline all of your options, as well as providing information on relocation benefits you may be eligible to receive.  
Let everyone know your new address:

Once you have all of the information about  your new home you should change all mail and deliveries to your new address.  You don't want missed payment notices because you forgot to let utility or credit card companies know of your move. Not to mention cards and care packages from friends and family!
Find out what's covered:

The government will pay most costs associated with your move, if there are any costs not reimbursed you may be able to claim them on your taxes.  Make sure you get all the information on what's covered and what you need to pay so you budget correctly.
Following these tips will help to ease the stress of moving and allow for a smooth transition into your new home!