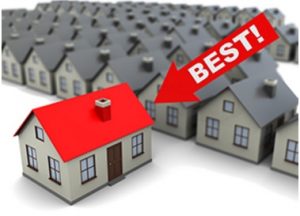 A PCS often presents military members and their families with many housing options. Lifestyle, finances and availability are all important factors to consider when making this important decision. Here are some points to consider as you make your next housing choice!
Military communities typically offer a number of housing opinions when it comes to living on or off post. It's important to research all your options to determine which is the best fit for you and your family. There are most likely pros and cons to each option and the best choice for you comes down to knowing your priorities and making an educated decision on which type of housing best meets those priorities.
On-Post vs. Off-Post
Deciding whether to live on or off-post is primarily a lifestyle decision, which setting is the best fit for you and the family.  There are two sides to this coin, each with perceived advantages and disadvantages. There are many advantages to living close to work on the installation. Short commute times, security for the family, easy access to the PX, gym, etc., and the ability to come home after PT and for lunch can mean more time with family. But this also means that during your free time, you are conveniently close to the office. Some individuals like being surrounded by all things military while others need the distance "away from work" to relax.
Finances
The financial aspects of choosing a new home are often focused on the Basic Allowance for Housing (BAH) you will receive.  When developing your housing budget, it's important to remember that your BAH rate includes both Rent and Utilities cost components.  Do you want to use your entire BAH for housing or do you want to put some money in savings each month?  For some service members in areas with high housing costs or limited supply, on post housing may offer the most home for your BAH. In other areas, living in an off-post home with a rent lower than your BAH can mean tremendous savings over the duration of an assignment. Know your BAH and utilize the Rent Smart feature on AHRN.com to assess the average rent costs for all your housing options.
Your PCS budget and planning will also play a role. At many installations, there could be a wait list for your new home leaving you waiting in temporary housing. The military will reimburse you for 10 days of temporary housing in the PCS process, but you will be responsible for costs beyond 10 days.
Choices
Once you have outlined what you are looking for in a new home, the next step is to see where that type of housing is available.  Living on post typically means fewer choices with regards to the size of your home, amount you will pay and schools your children will attend. Living off post allows you to choose a school district, flexibility regarding the type of home, number of bedrooms, bathrooms, or focus on locations that are close to preferred amenities like shopping, groceries, or running trails. In either case, it comes down to which conveniences are the higher priority for you or your family.
Finding a new home is one of the most important decisions in any PCS.  Be sure you have a list of priorities and evaluate all your housing options against that list to ensure you make the right housing decision.