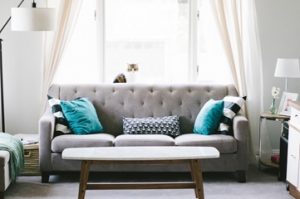 Renting a property can be an exciting new step in your life but you may not be sure how to approach decorating a home that is temporary. Your new place should reflect who you are and make you feel at home. Here are some tips to keep in mind when trying to decorate your rental:
Paint
The first thing that comes to mind when you think about moving into a new space is painting! It's a great way to make your place feel brand new and make it yours. Of course, since it is a rental, you need to receive permission from your landlord before putting the brush to the wall. Review your lease for any painting restrictions, talk to the landlord to receive permission. If the landlord is uneasy, you can work with them by showing what colors you plan on choosing. If they do not want the room a "weird" color, you can work with them to agree upon a color you both enjoy. Neutral colors are always the safest way to get your landlord on board.
Lighting
Lighting can make a room seem bigger, brighten up your place, and create a different atmosphere. There are so many lighting fixtures to choose from, overhead lamps, desk lights and stylish floor lamps. The possibilities are endless! If your favorite lamp is out of your price range-check out your local flea market or yard sale for some great buys. The best part is that all of these are easy to move and temporary, so it won't be a problem if you relocate.
Wall Décor and Art
Your rental should be just that-yours. The best way to make it feel like home is by adding works of art that express who you are. Paintings, knick-knacks, plants- the decorations you can apply are infinite. Filling up your walls with what you like will take your space from boring to fun in no time. Removable wall decals and easy to remove command hooks make decorating a rental easy and won't damage the walls. This will be important when it comes to getting your security deposit back!
Bonus: If you are not sure where to get inspiration the best place to look is Pinterest! Create boards, follow all the best home decor pages and pin ideas to save for later. This site will also help you find good ideas if you're decorating on a budget as you can find DIY ideas on almost anything.
Just because your new home is a rental shouldn't stop you from making it yours!