Typically every three to four years, active-duty service members find themselves placed on orders to serve at a new duty station. In an unsteady real estate market, it can be difficult for service members to sell their homes with the less than 120 days lead time that most PCS moves afford. In the meantime, it makes sense to rent out the home and become a reluctant landlord, to at least help cover the mortgage.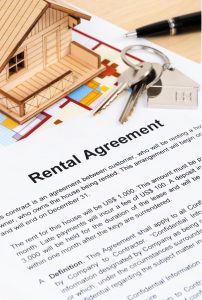 Before you rent out your home, use these six tips to help protect you and your property.
1. Find a solid tenant.
You can find tenants by advertising online at places such as AHRN.com. Also spread the word through friends, relatives and coworkers.
Make sure you have potential tenants fill out an application form, listing their basic information: name, employer, salary or additional sources of income such as child support, previous landlords and references. You'll also need their Social Security number and signed authorization to check credit reports and criminal history. If you hire an online agency to provide background checks, make sure it is accredited by the Better Business Bureau.
You can do your own background checks by pulling credit reports through one of the credit reporting agencies — Equifax, Experian or TransUnion — as long as you follow the guidelines of the Fair Credit Reporting Act. Ensure that you perform a thorough criminal history check. Search state and local records online or find an agency. Finally, make sure to check the provided references by calling the prospective tenant's employer or previous landlord.
2. Determine how much rent to charge.
Check online to see what comparable houses rent for in your area. Be realistic about rent levels. Unfortunately, the rent may be lower than your mortgage payment, but if you want to find a tenant, the rent must be comparable to what's in the market. This also holds true if comparable rents are more than your mortgage. In this situation you stand to make a few dollars.
3. Protect your rights and your tenant's rights with a lease.
Have a written lease so that each party understands their rights and obligations. A good lease complies with fair housing, rental, tenant and insurance laws of your region. These laws differ across states, counties and cities. Avoid using blank leases from the internet, because they may not comply with the laws of specific areas.
A lease should include the following:
Lease term: A month-to-month lease offers more flexibility if you are planning to sell, while a yearly lease provides more stability if you are holding on to the property.
Security deposit, usually equal to one month's rent.
Rental due date and late penalties.
Repairs and who's responsible for what, especially in an after-hours or emergency situation.
Routine upkeep and maintenance responsibilities, such as lawn care.
List of tenants, including children.
Rules of behavior, including noise levels, neighborly conduct and smoking (both inside and outside).
Pet policies and any additional pet deposits.
Who pays homeowner association (HOA) dues.
Association rules that the tenant must follow.
Arrangements for showings, if you plan to keep your home on the market while it's being rented.
Eviction terms, such as not paying the rent or damaging the property.
4. Protect your property with insurance.
You need a different insurance policy if you're renting a property to a tenant as opposed to using it as your primary residence. As a landlord, you'll need rental home insurance, also known as fire insurance. This policy covers your home's structure, legal costs, medical expenses and loss of rental income, if repairs are needed. Since you are not responsible for the tenant's belongings, you should encourage tenants to buy renters insurance. Some landlords even require that renters insurance be purchased as part of the lease agreement.
5. Hire a management company.
Fees are charged primarily for two services: finding a tenant, which includes advertising and background checks, and managing the property itself. The fee for filling a house can range from half of a month's mortgage or rent payment to almost double that number, depending on the area. Monthly management of a property includes collecting the rent, charging late fees, handling repairs and dealing with early vacancies and evictions.
6. Prepare for evictions.
Evictions are a worst-case scenario, but it pays to prepare for the worst. You'll need an attorney if you are forced to evict a tenant for nonpayment, lease agreement violations, illegal use or because the property has sold, among other reasons. If the tenant doesn't leave willingly, you can't just kick them out. You have to go to eviction court, and law enforcement might need to come out and physically remove the tenants if they don't move out willingly.
If you follow these six tips, you could become a less than reluctant landlord and enjoy the extra income and peace of mind that comes with knowing your mortgage is paid while you live elsewhere.
Do you have any other tips to being a successful landlord?