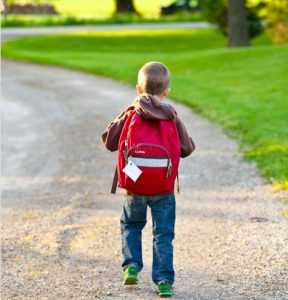 One of the inevitable aspects of being in the military is the fact that you are frequently required to relocate. It can be a stressful time for you, and an even harder time for your child. They have to adjust to a new school environment, make new friends, find their way around and get to know their teachers all over again. While this can be daunting for your child (and you), here are 5 tips that can help ease your child's anxiety and make the process a little less stressful.
Think Positive
Moving away may seem like a horrible experience to your child because they are leaving their friends, routine and comfort zone. But it is important to encourage them to remain positive during this time. Remind your child that a new place means new opportunities, new people and many more fun experiences. Reassure them that change is good and that it's never as bad as they imagine. Research popular activities in your area or things to do, to help create something exciting for them to look forward to once they arrive.
Get Involved
Before the move research the school to see what programs it offers that your child might find interesting. Contact the new school ahead of time to get acquainted with your child's teacher, counselor, principal etc. Find out what resources they may have available to ease the transition. There might be back to school events or new student orientations that will help make the adjustment easier. Ask about new student buddy programs where a current student acts as an ambassador who will help our child get around the school and introduce them to other students.
Get Them Excited
Moving means a fresh start. Another way to get your kids ready is by taking them school shopping. Getting brand new supplies, a fun new backpack, and trendy new clothes will help put them in a better mood. Allowing them to express themselves with their new gear and can even make for a great conversation starter with their peers. What's a better way for kids to connect than over their favorite cartoon character?
Use Your Military Resources
Being part of the military community means you have access to an abundance of resources at your fingertips. There are countless resources at your base that are intended to help your child adjust to their new environment. Your base should have a DoD School Liaison Officer that can provide solutions and support. Some installations even offer Youth Sponsorship Programs, where kids can meet new friends. They are able to email, chat online and talk on the phone with each other before they arrive.
Don't Forget the Past
Lastly, it's important that your child maintains ties with their past. Just because you move to a new community does not mean they will completely forget about their old friends, nor should they. Luckily, there are all types of communication platforms at our disposal: Facebook, Skype, Facetime, etc. Having old friends to talk too about how they are feeling can also help them cope with this new change.
Each child will react differently to moving and starting at a new school but following these tips should make it easier no matter what their stress level may be about their new circumstance.