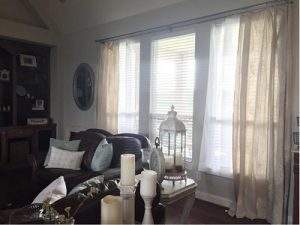 Looking for temporary and inexpensive ways to decorate your new rental home?  Here are five ways to add a personal touch to your new rental home.
Removable Wallpaper. Brighten those neutral color walls with removable wallpaper.  Just covering one accent wall can change the entire room.  Below are some companies offering removable wallpaper.

Wall Tape Accents. Not looking to cover the entire wall?  Use wall tape accents to add color to a plain wall.  Search Pintrest for design ideas.
New Light Fixtures. Replace that old light fixture to brighten the room.  A new light fixture can provide both aesthetic and functional benefits.  Be sure you are comfortable performing basic electrical tasks or find someone who is qualified.
Area Rugs. Use area rugs to either accent the current flooring or cover the exiting flooring completely.  You can also use carpet remnants to cover exiting flooring.
New Shower Heads.  Start your day on the right foot…a good shower.  The shower head can make the difference between a basic functional shower and an enjoyable, relaxing shower.