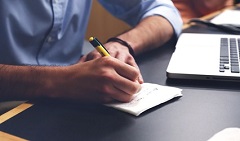 As a property manager, it is quite possible that some of your former tenants will ask you to provide a recommendation when they move out.  This recommendation can help to assure their new their new landlords they will be a reliable resident and you are also helping fellow landlords and property managers screen potential tenants.
As part of the screening process, it's common for landlords to solicit referrals from a potential tenant's former landlord. That poses the question of what information you should provide when another landlord contacts you for a reference regarding a previous tenant. Many landlords are concerned about what can be legally disclosed.  No one wants to get involved with a lawsuit because of what they say in a reference for a former tenant.
Currently there are no privacy laws limiting what a landlord can or can't disclose about a previous tenant. If a reference is solicited, a landlord can say whatever they like about their former tenant. However, it's wise to stick to the facts and only provide information that can be supported with solid proof so former tenants won't accuse you of slander. You shouldn't get personal by criticizing their looks or habits because they are different from what you personally consider "normal".  Any negative feedback should be supported by evidence.
Here are 3 tips to remember when writing a reference:
1. Be objective
Each letter should be personalized for each tenant, but it is important to not let your emotions get the best of you. Simply state what the resident did or do not do, leaving out any grudges you may have against them. Be sure not to exaggerate claims of property damages or late payments.
2. Be honest
Under no circumstances should you lie in the letter. If you had a bad tenant, you may want to make him or her seem worse so that the future landlord doesn't have the same experience. However, you can be sued for misrepresentation. You want to remain accountable and should be able to support any claims you make.
3. Be available
If you decide to write the letter, you should still be available even after you have given it to your former tenant. Be sure to include your telephone number and email so that the future landlord can contact you with any questions they may have.
If you're lucky, all of your references will be positive but as long as you are honest your former tenant and their new landlord will be happy.